Benagil Cave Paddleboard Experience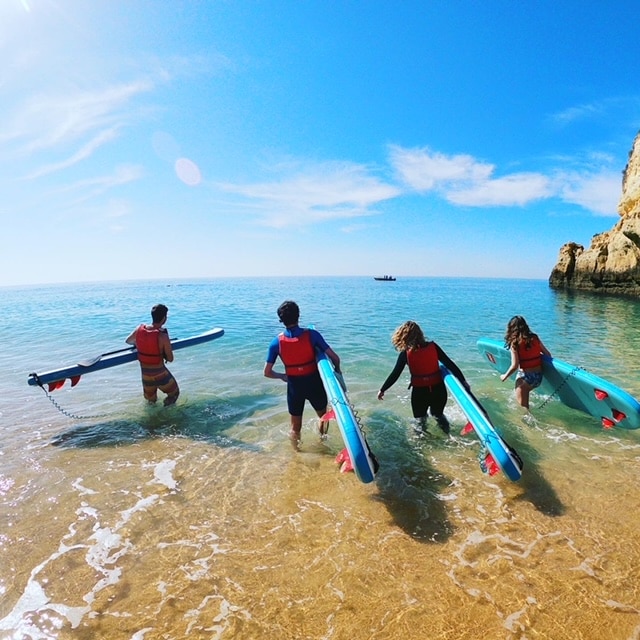 Duration
2 hours • Ages 5+ • Most Popular • Free GoPro Photos • Don't miss out • No experience required!
About
Benagil Cave Paddleboard Experience
In the Algarve, you will find some of the most beautiful beaches and sea caves in the world, accessible only by sea, the famous Benagil Caves. Get to know some of these secret and hidden places very closely with your local native, and get detailed information about the Algarve coastline and the cave formation.
You´ll go with a certified professional instructor to keep you safe at the same time make it Simple
Stand-up paddleboard has a new genuine perspective of the Algarve coast, in a route around the central main stage of the magnificent Portugal coastline the famous caves of Benagil.
Be aware, the safer way out on the beach inside the cave is by SUP, we use very light, high-quality boards easy to handle by one person, even 8yo kids also carry their own board!!
You will be able to sit, kneel, or stand up on the paddleboards, relax and have a lot of fun, while your Expert guide takes loads of free professional photos for you.
Best Memorable moment, don't miss out!
Highlights
Walk inside the Benagil Cave
No experience is required easy and accessible
Secret corners of Stunning Algarve coastline
Join Small Group
Exclusive Fossil Identification
Contact with Nature
Explore unexpected secret corners
Free GoPro Photos of the Tour
Local guide from Benagil
Easy and safe sport
You can sit or just kneel
Safe storage place / Lockers
Skip the lines
Free parking
Comprehensive
Wetsuits available
What's Included:
Stand Up Paddle Board and Paddle.
Local Guide / Instructor / photographer
Life jacket
Wetsuits are available
GoPro photos are Free
Insurance
Dry Bag for phones
Storage place / Lockers
Free parking
Trip Itinerary of Benagil Cave Paddleboard Experience
• Meeting and greeting at arrival
• Departure to the beach for a SUP lesson
• 15-minute Paddleboard briefing
• Paddle Out for SUPer funny moment
• Several stops during Tour for storytelling
• Explore the Benagil cave surroundings
• Debark time to explore the Breathtaking Benagil Cave from inside 30 minutes or more
• Instagram Photocall at Benagil Cave
• Return to Benagil beach
What to bring
Swimming suit or beachwear
A towel,
Drinking water,
Snack, or fruit for after the tour