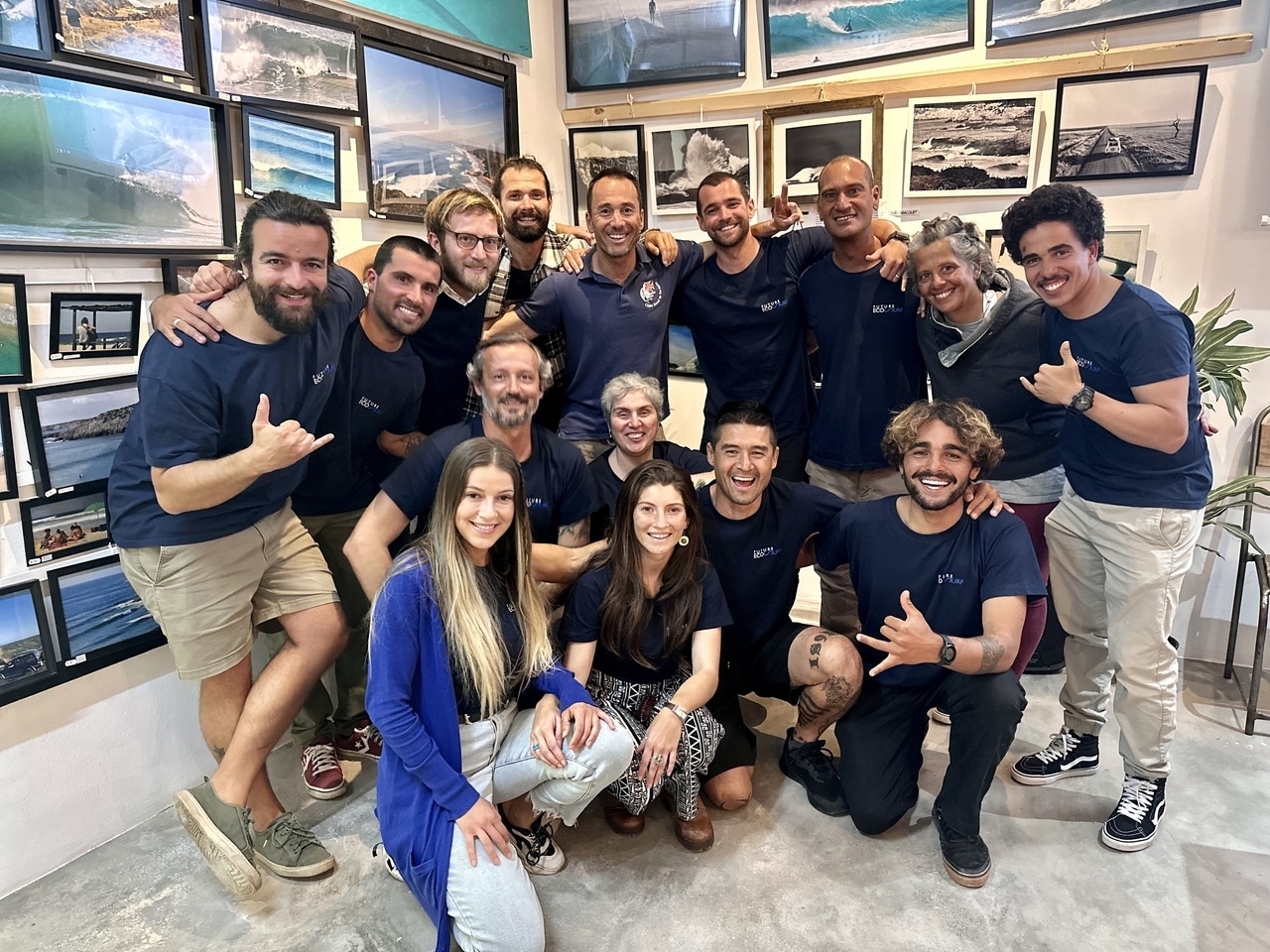 Future Eco Surf School is proud to have a team of resident coaches who work as a family, with people who have been working together for several years, and more than co-workers they are friends.
They all specialise in surfing as they are full-time surf coaches all year round. This means that being a surf trainer for this resident team is not a summer job but a career where consistency and commitment are the key to success.
Being from the Algarve or having lived here for a long time, they know the culture and geography of the area, which makes it easy for them to find the best surf spots every day.
All the surf coaches of our surf school are certified by FPS (Portuguese Surf Federation) or ASI (Academy of Surf Instructors) and stand out on the beach for their commitment to support their students in the water. This is especially important when the student is just starting out and developing their confidence with the ocean, the surf equipment, and the other surfers and guarantees a quick learning if the techniques are well understood.
Pedro Lima
Double Degree in Biology and Environmental Management
FPS certified surf coach since 2016
Multipurpose coach (different teaching levels)
Fluent in English
Head coach responsible for coaches team training
Besides surfing loves: rock climbing, music, movies and travelling
Norbert Ferenczi
ISA surf coach since 2017
SLSGB lifeguard award.
Fluent in English .
Studied sport sciences.
Besides surfing loves hiking,basketball, and swimming.
Alfo Scavone
Degree in Sports and certified Lifeguard
Surf assistant coach
Specialized in beginners level students
Besides surfing loves: travelling, swimming, action sports, and to compete
Hamza Majjoud
Studies: Graphic designs
Surf Couse and since when: ASI certified and teaching since 2018
Fluent in: English, French, and Arabic
Specialized in: Beginners groups
Besides surfing loves: kite surfing, graphic design, water sports, and good laughs.
Júlio Rodrigues
Studies: Bachelor's Degree in Physical Exercise and Lifeguard Course
Surf Couse and since when: More than 10 years of surf teaching
Fluent in: Portuguese and English
Specialized in: Advanced training and fitness
Besides surfing loves: Skateboarding, Gym/weight training, nature walks, and camping
Mikael Albino
Degree in Sports
FPS certified surf coach since 2019
Multipurpose coach (different teaching levels)
Fluent in English, French and Spanish
Specialised in group lessons
Besides surfing loves: working out in the gym, skateboarding, BMX and relaxing
Héli Camarinha
Héli has a degree in civil engineer and he's a certified surf coach by FPS since 2019.
Specialized in kids group teaching, he is also fluent in English.
Besides surfing he loves bouldering, going to the gym, and meditating
Jiry Van Nieuwburg
ASI certified surf coach since 2017
Fluent in Dutch and English
Specialised in kids surf coaching
Besides surfing loves: Ultimate frisbee, chess and running
Joana Drago
ASI certified surf coach since 2018
Fluent in German and English
Specialized in young kids surf lessons
Besides surfing loves: photography, dancing and gymnastics
Pedro Pral
Degree in Architecture
Surf assistant coach
Former junior athlete
Specialized in intermediate level students
Besides surfing loves: photography, design and volleyball
Leo Tavares
Experienced surfer and former competitor
Recognised surfboard shaper |@leotavaresshaper |
Competition surf consultant
Besides surfing loves: surfboard shaping, surf theory, travelling and skateboarding
Bruno Larangeira
Professional photographer | brunolaranjeira.wix.com |
Experienced diver
Besides surfing loves: diving, skateboard, swimming and wild life
Daniel Pankoke
Professional photographer | www.photography-wildlife.de |
Wild traveller
Creative, radical and very sociable
Besides surfing loves: snowboarding, wakeboarding, skateboarding and rock climbing
Ricardo Gonçalves
Owner and Director of Future Eco Surf School
Degree in Sociology
Management and human resources
FPS certified surf coach since 1996
Multipurpose coach (different teaching levels)
Fluent in English and Spanish
Besides surfing loves: Yoga, outdoor activities in nature and travelling
Maria Prado
Certified in photography
Specialised in administration and customer service
Communicative, friendly and efficient
Besides surfing loves: animals, human rights and nutrition
Miguel Torres
Degree in Naturopathy, in Portugal and Australia
Specialised in project management, logistics and social media
Methodical, multitasked and excellent communication skills
Besides surfing loves: reading, yoga and nutrition
Luísa Alves
Certified Tourist Guide
Specialised in administration, languages and partnerships
Structured, focused and always in a good mood
Besides surfing loves: yoga, music, hiking, arts and crafts
Camila Freitas
Tourism Student
Specialised in customer service, organisation and logistics
Methodical, determined, cheerful and competent
Besides surfing loves: concerts, socialising, water sports and travelling
Débora Martins
Massage therapist and Personal trainer
Specialised in customer service.
Lucas Lemos
Fluent in: English
Specialized in: Graphic design and customer service
Besides surfing loves: gym, yoga, martial arts, and soccer
André Agrela
Degree in Human Resource Management and Master in Sustainable Business
Consultant for sustainability strategies
Author of several articles on environmental good practices | www.youmatter.world/en/ |
Committed, organised, communicative and ambitious
Besides surfing loves: cooking, snowboarding, reading and travelling
Ricardo
Kundalini yoga teacher and active meditation facilitator.
Shaini
Iyengar and Vinyasa yoga teacher. Specialized in retreats organization.
Tânia Surya
Yoga teacher since 2001. Certified in Kundalini, Samkya and Aerial Yoga.
Doula and Feng Shui consultant.
Maphalda
Samkya yoga instructor, sound journey and access bars practitioner.
Daniela Luz
Certified mindfulness coach, meditation and yoga teacher (Hatha, Vinyasa, Yin and Aerial)
Tété Moreira
Future Ambassador for Surfing & Art
In her own words:
"This invitation left me with a full heart! It is an honor to be able to participate and give my face to such a fundamental initiative, as the serious and conscious introduction of human ecology into the surf world. I am the mother of three surfers and I see surfing as an art form that teaches us how to surf life. Direct contact with nature, through the sea, is a blessing that I often see squandered by the greed and ingratitude that reigns in the sport. I believe that support and openness to look at this practice with a new perspective, can open up a real new world to surfing, and make it one of the great treasures of learning the art of living in complete resonance with nature.
I embrace this project with my whole being and believe that these are the projects of the future that will lead us to an integrated and harmonious life, where man and nature dance and enjoy life together.
Count on me."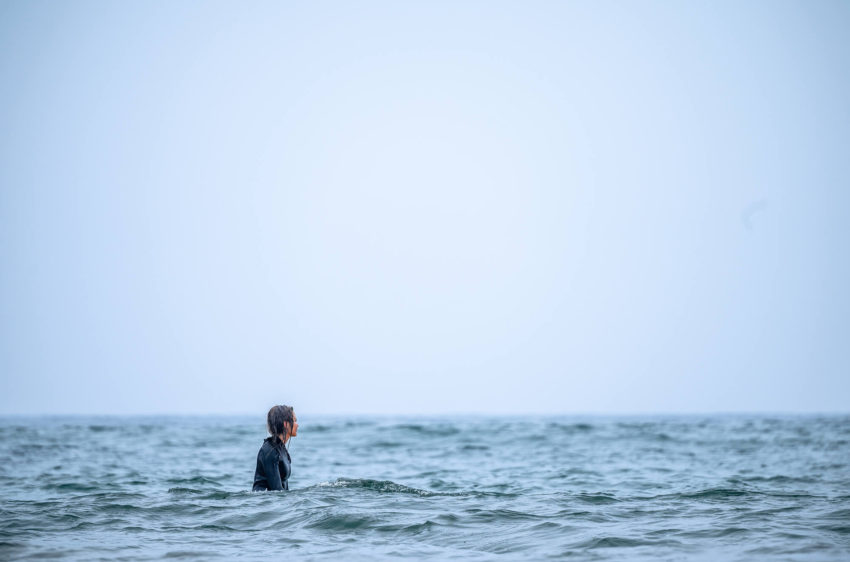 Graça Pereira
Future Ambassador for Social Causes (Social Surfing)
Graça is proudly our "Social Surfing" ambassador and probably the best surfer you will ever meet! Not that she surfs like a professional athlete, but if you take into account that "the best surfer is the one who has the most fun of surfing", then she really is the best surfer you will ever meet!
Graça is like a trip to India or Morocco – you either love it or hate it, but you will not remain indifferent. What is guaranteed is that you will have an authentic trip or you'll meet someone truly authentic! It doesn't sound like much!? We all know how much courage we need to have, in order to be who we really are, to don't be held hostage from the other's acceptance.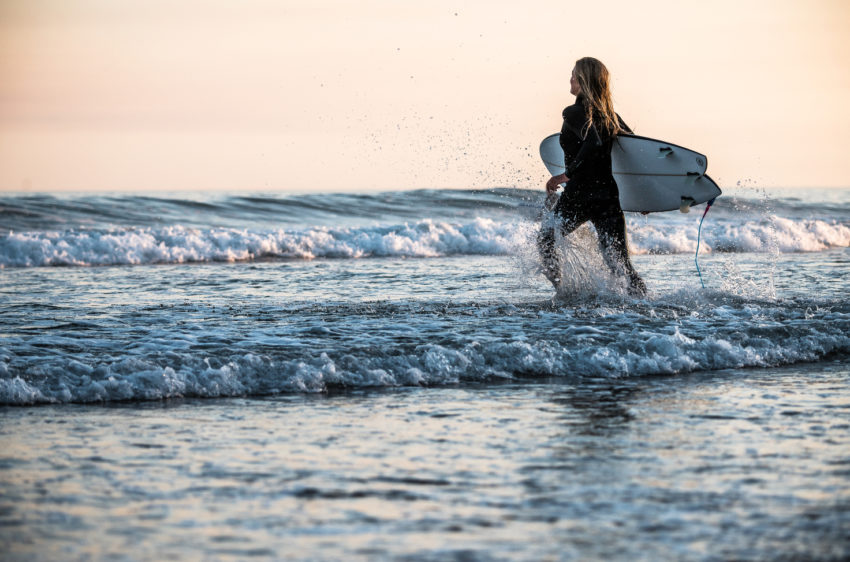 Our ambassador has had an intense life, often pushed to its limits, with very challenging moments that made her hit rock bottom, but also gave her the strength to learn to reinvent herself with even more determination and wisdom.
Graça works with us in the social sector, especially with risk groups, young people from socially disadvantaged neighbourhoods, adults recovering from drug or alcohol addiction, but also with people with special needs, cognitive, physical or mental health impairments.
What makes someone a Future Ambassador? Simply by being authentic and inspiring people with your captivating personality and of course, that you breathe "surfing".