for Kids
Future Eco Surf is proud of being responsible for countless surf baptisms since 1998, many of them quite young, many others made it for a couple of years while others made a sports career out of it and others are now teaching as they were taught before.
Kids, due to their natural happiness and contagious enthusiasm bring us so much fulfilment when we realize that our passion for nature in general, and for the ocean in particular, will be continued by future generations.
Kids Sustainable Surf Lessons Options
We have several options regarding surf lessons for kids.
If you live in the area, please contact us by email or phone for monthly payment options and annual membership.
If you are with us only for a short time, you can choose between private lessons (especially if the participant is under 9 years old and very inexperienced) and daily group lessons for children of similar age, there are as well packs of 3 and 5 lessons and Kids Club – intensive weeks of surf during the school holiday.
The methodology of our surf school is based on the old surfing philosophy, where people went surfing to have fun and enjoy the sea with their friends, but also where good surfers were recognised and appreciated for their surfing skills.
In this way, and with the intention of providing our students the best that surfing has to offer, we have structured our surf lessons to ensure the fun and free spirit of surfing, but still keeping in mind their technical progress. Always having fun in safety in the ocean, connecting with nature and developing ethical behaviour in surfing are some of our main goals as a surf school.
Surf lessons location
Our surf lessons may take place on different locations of the Algarve coastline depending on the season of the year. That said, in fall and winter most days of the surf lessons take place at the south coast mainly at Praia da Rocha (by this time of the year the west coast has much more waves than we would need for teaching in easy smooth conditions). By spring and especially by summer as waves get smaller in size, surf lessons take place more often on the western Algarve – especially for adults and participants with previous experiences on surfing- on surf spots such as Bordeira beach, Cordoama beach, Vale Figueiras, in between others.
Levels
In order to assure homogeneous classes and guarantee a faster technical progression, our surf lessons are organized in different learning levels.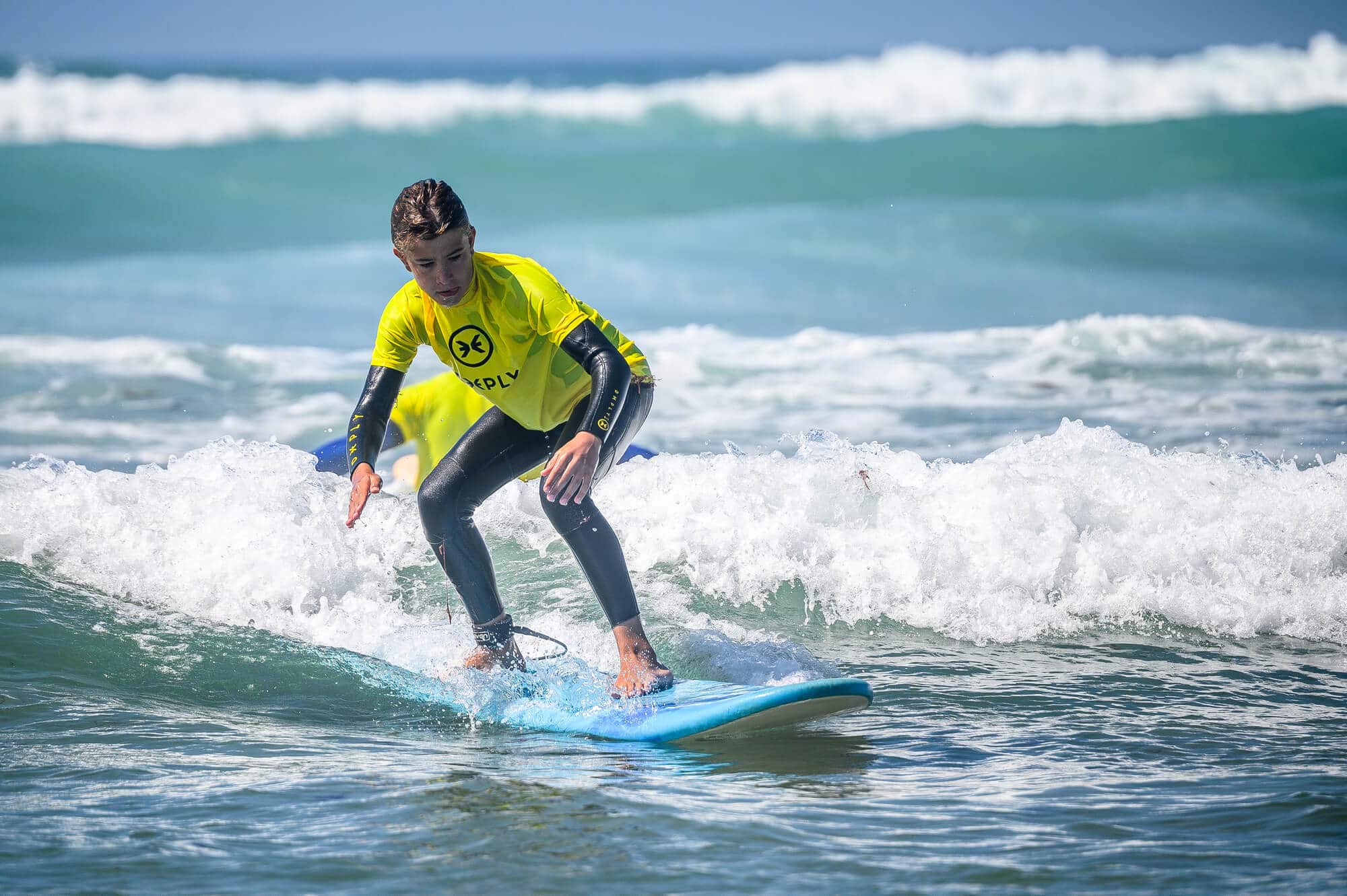 Bordeira beach, Aljezur
Initiation A
Level I
Getting used to the equipment
Safety in the ocean and at the surf
Surf technique – positioning on the board, paddling and take-off
Getting independent on the surf lessons – choosing waves, getting through the waves
Basic Surf movements – getting speed, breaking speed and turning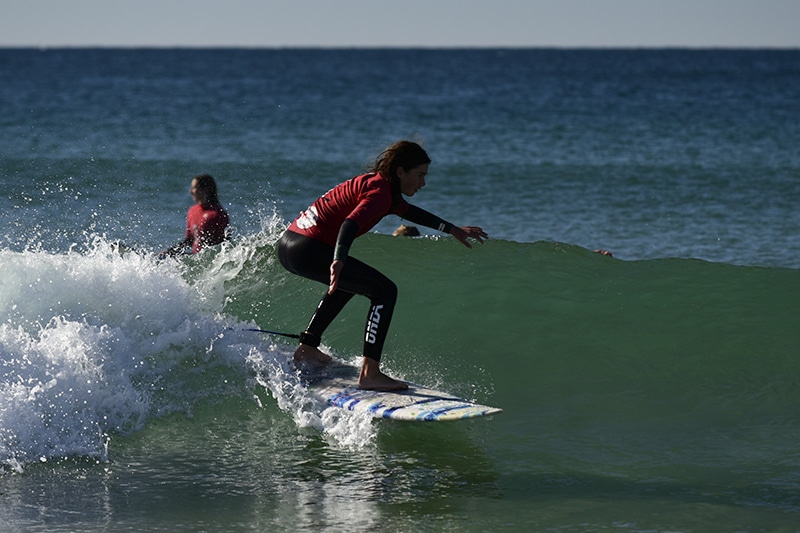 Praia da Rocha, Portimão
Initiation B
Level II
Review of previous knowledge
Reading the ocean and technics to reach the outside
Priority rules between surfers in the outside – surf etiquette
Positioning techniques in order to manage the crowd and score specific waves
Initial techniques such as the bottom turn and the trimming for small green wave surfing (the proper wave before breaking into a white water wave)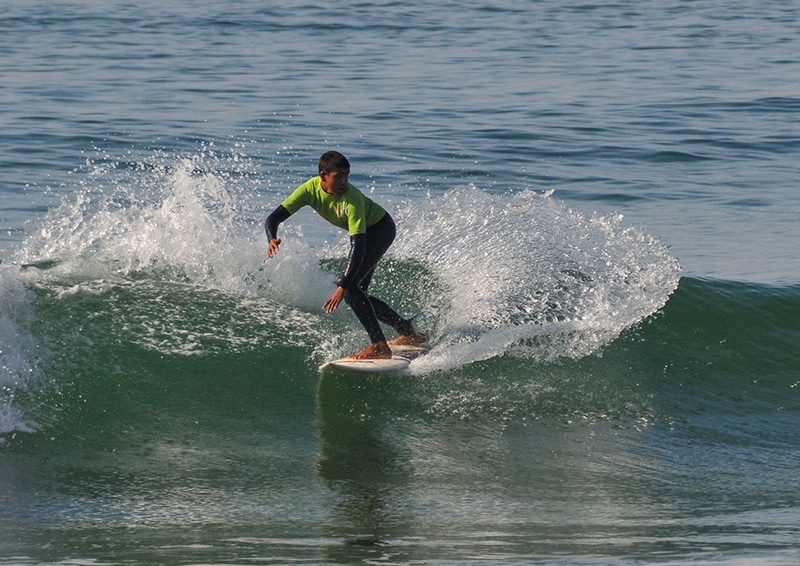 Praia da Rocha, Portimão
Improvement
Level III
Review of previous knowledge
Initiation to intermediate/advanced maneuvers: floater, cut-back, top to bottom and off the lip.
Introduction to physical surf training and other complementary sports activities: skate, swimming and slackline.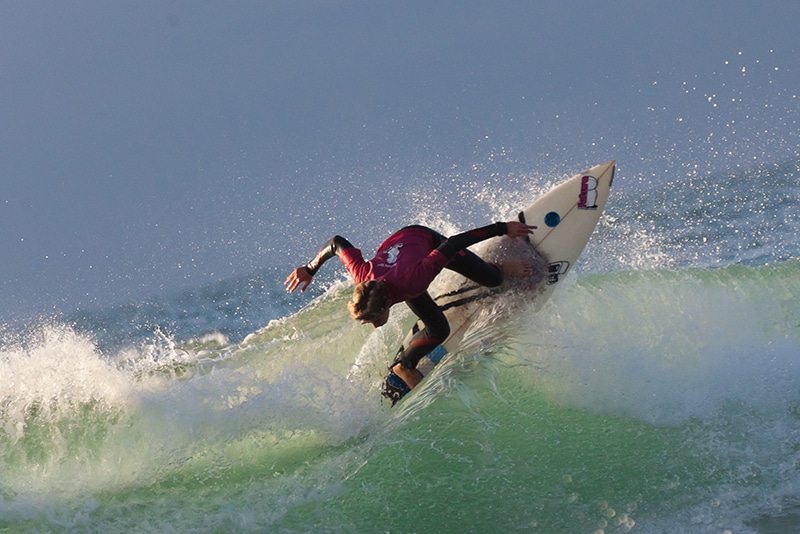 Amado beach, Aljezur
Pre-competition
Level IV
Review of previous knowledge
Linking the different manoeuvres according to what the wave affords
Introduction to advanced tricks such as barrelling and aerial moves
Introduction to the rules and competition strategies
Heats or qualifiers rounds simulation practice
Participation in local surf competitions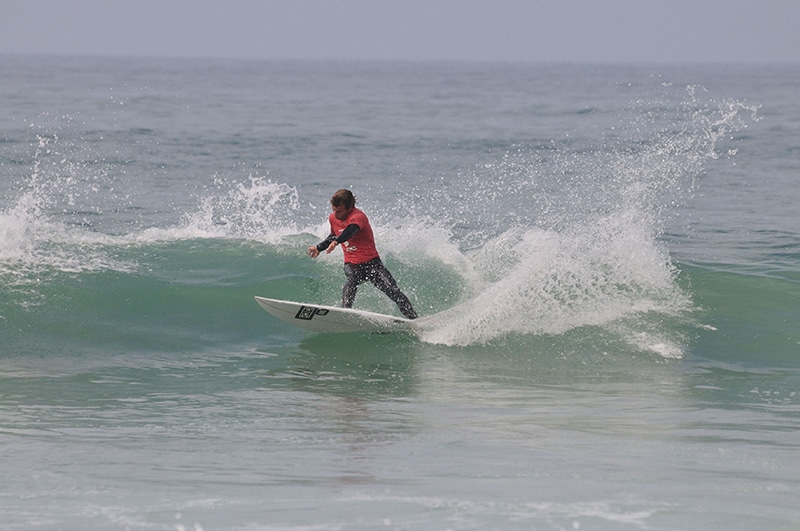 Cordoama beach, Vila do Bispo
Competition
Level V
Review of previous knowledge
Improving the advanced manoeuvres
Improving the competition strategies
Participation in regional and national surf competitions
"Great surf school.
The staff is great and the lessons a lot of fun for all ages!
Definitely recommend 😉 "

mohartenaic
Leave a review here